Written by SuperDaddyTV founder this sci-fi time travel themed book, Dark Parallel, to buy from the author directly go to the Paypal button below. Otherwise click one of the links to your preferred vendor also below.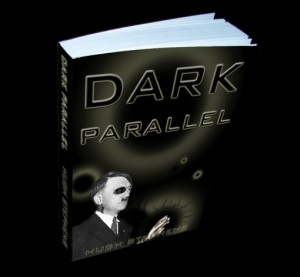 Or buy from the author, click the Paypal button below:
If you prefer you can send money through Paypal to: superdaddytv@superdaddytv.com
Or you can send a money order or cashiers check and we can mail you a copy. Contact us for the address and price with shipping to your area.
BOOK DESCRIPTION
Thomas flood leads a small group as they travel back to World War II era Nazi Germany to collect a rare substance. While there one of the group, secretly a neo-nazi, slips away and makes contact with the Nazi regime. Upon return to the 21st century Flood and his team see a world that has been taken over by the Nazis and must risk their lives to return the present to the original timeline. Along the way they meet the adult daughter of their now elderly traitor, Darla Brown having grown up with an abusive father became the leader of the new resistance. The last standing force in the way of the Nazi regime completing total conquest of earth. With the help of the resistance Flood and his team must recover their time machine from the Nazis and return to the past to make things right.